Bespoke Medals
What are Bespoke Sports Medals?
A Bespoke Medal is a totally unique sports or award Medal, often drafted from a design or logo. We can take your logo, brand, artwork, or design and turn it into an amazing-looking Sports Medal, complete with a custom ribbon, or presentation box.
Fully Custom Bespoke Sports Medal Creation Service.
We have an amazing selection of custom bespoke medal services. With our most popular custom medal option, the full Enamelled Medals which feel high spec heavyweight.
Low cost high spec Bespoke Medals from as little as 0.98p
Hi there! Thank you for considering our products. We would like to bring to your attention our Non or Part Enamelled Medals which are a great alternative to our other enamel options. These medals come with a sandblasted background that can be customised to your preference, with either partial or full-color options available. We believe that these medals can be a great way to highlight the unique characteristics and design elements of your brand or organization. Please let us know if you have any questions or if you want to learn more about our customization options. We would love to work with you to create the perfect medal for your needs!

Quick Quote Bespoke Medal Quote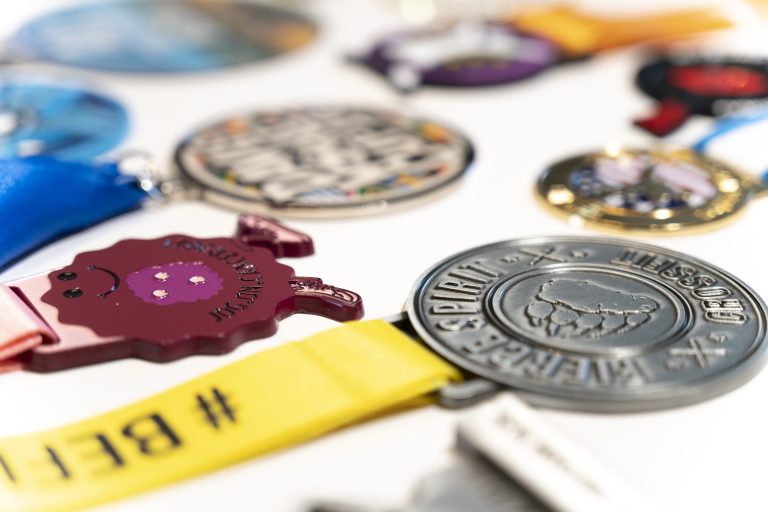 Different Medal Styles
We craft Bespoke Medals from a range of materials, metal, zinc, copper compounds, we also use wood, crystal, or silicone as other options, with the main most popular medal creation metal.
Medal Sizes
With our Bespoke Sports Medal creation service, you can choose from a great range of size options. The thickness of a medal can range from a 2.0mm medal to a super thick 5mm medal.
Colour Styles
With a Bespoke Sports Medal, the options for colours are incredible. Any colours can be used, and if required colours can be blended into other colours for a stunning finish.
Why Choose A Custom Medal?
When it comes to recognising excellence and achievement, choosing a custom medal can make all the difference.
A custom-made medal can be a unique and memorable way to celebrate the hard work and dedication of individuals or teams.
Whether it's for a sports competition or an academic event, a custom medal can be tailored to meet your specific needs, making each medal truly one-of-a-kind.
The design of a custom medal can be customised with logos, symbols, and engraving to capture the essence of your event and the values you wish to express.
Additionally, choosing a custom medal can help to create a sense of pride and accomplishment for those who receive them, elevating their sense of self-confidence and achievement. So, if you are looking for a way to recognize excellence or celebrate achievement, consider choosing a custom medal to make a lasting impression.
Here on our our website where you can explore the best custom medal choices available!
Whether you're looking for custom medals for sports, academic achievements, or any other special occasion, we have a wide selection of options to choose from. Our custom medals are top-quality and fully customisable to ensure that you get exactly what you're looking for.
We understand the importance of recognising hard work, dedication, and achievement, and our custom medals are the perfect way to show your appreciation.
So, take your time browsing through our various designs, and feel free to get in touch with us if you have any questions or special requests. We're always here to help and make sure that your experience with us is a pleasant one. Thank you for choosing us for all your custom medal needs!
Showing the single result